Press Releases
21CI wins HIS contract from Majid Al Futtaim Healthcare, Dubai
Dubai, August 15th, 2013 The Netherlands-headquartered 21st Century Informatics (21CI), a specialist developer of informatics products and solutions for the healthcare industry, has entered into an ICT partner agreement with Dubai's leading business group Majid Al Futtaim Healthcare, through Emitac Healthcare. The objectives agreed between the 21CI, Emitac Healthcare and MAF Healthcare venture are to provide a near-to-paper-less environment and a superior patient experience with highest quality standards.
Majid Al Futtaim Healthcare is a new business vertical recently established by Majid Al Futtaim Ventures – the growth engine responsible for developing new and innovative enterprises across the region, to invest in healthcare assets. The contract includes the provision of an end-to-end revenue cycle management connecting to DHA eClaims and integrated healthcare ICT solutions comprising clinical EMR, laboratory applications, performance dashboards, RIS, PACS and Microsoft Dynamics GP 2013.


About Majid Al Futtaim Ventures:
Majid Al Futtaim Ventures LLC is the growth engine responsible for developing new enterprises that complement and reinforce Majid Al Futtaim Holding's leadership in core industries. The group's expertise spans across a diverse collection of companies that mark the group's dedication to delivering the latest and most innovative concepts to businesses and consumers in this region.


The group's strengths can be seen across the portfolio, from the region's first indoor ski slope at Ski Dubai and the region's first indoor waterpark, Wahooo! in Bahrain from Majid Al Futtaim Leisure and Entertainment to premiere viewing experiences with VOX Cinemas from Majid Al Futtaim Cinema and renowned retail outlets such as Juicy Couture from Majid Al Futtaim Fashion. The group also offers practical money solutions with Najm Credit Card from Majid Al Futtaim Finance, first-class multi-technical and energy management services from MAF Dalkia and specialized financing services for the industrial and service sectors from MAF ORIX Finance.
For more information please visit: www.majidalfuttaimventures.com
About Emitac Healthcare Solutions: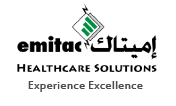 Emitac Healthcare Solutions LLC is a leading Healthcare Informatics and Technology solution provider in UAE. With more than 36 years of experience in the industry, our integrated team of professionals have deployed several clinical and IT solutions in a number of leading government, semi-government, military and private hospitals in the MENA region. The company handles architectural designing, medical equipment planning and turnkey project management and also offers 24X7 technical support to hospitals and care givers, right from installation, training, maintenance of hospital equipment and technology to turnkey hospital maintenance contracts.
For more information please visit: www.emitachealthcare.com
About 21st Century Informatics:
21st Century Informatics (21CI) is a global healthcare informatics company. Headquartered in Amsterdam, the Netherlands 21CI provides transformative solutions that improve the availability, accessibility and affordability of healthcare services. 21CI's Apex™ Enterprise Healthcare Information System is a platform that unleashes quantum improvements in revenue cycle management and clinical care. 21CI COMPONIUM powers Apex to make the platform suitable for multi-organization management, provides flexibility to the users of Apex to adapt the system to changing business needs without large customization costs and empowers the users through its learning tools.
For more information please visit: www.21ci.com
Primary Media Contact:
Dr. Neha Shah
Email: neha.shah@21ci.com
Mobile: +91-97574-13088

Secondary Media Contact
Mr. Rajmohan Nair
Email: rajmohan.nair@21ci.com
Mobile: +91-98408-56003
---