Press Release
21st Century Informatics along with HIMSS, Asia Pacific Chapter participated in INTEROP 2012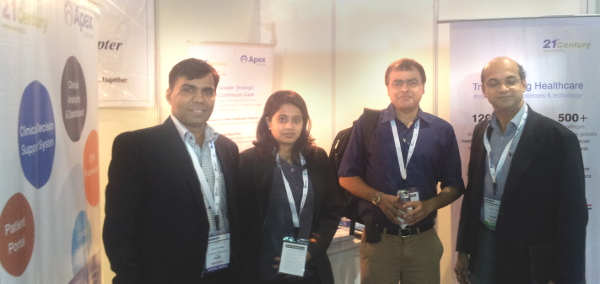 15 October, 2012: 21st Century Informatics along with HIMSS, Asia Pacific Chapter participated in INTEROP 2012 held at the Bombay Exhibition Centre, Mumbai from 10th October 2012 to 12th October 2012. It is the first time that healthcare being a focus at INTEROP. The 5th edition of INTEROP Mumbai 2012 defined and directed the needs of global technology buyers through in-depth educational programs, a solution-rich exhibit floor, and by showcasing live technology demonstrations from leading vendors. The three-day Interop Mumbai 2012 exhibition & conference - Mumbai, concluded with great success active representation from the IT enterprise and channel fraternity (including keynotes, track speakers, moderators, panelists and workshop presenters). Truly, Interop Mumbai is now India's premier enterprise business technology event.
The top IT priorities where the attendees were interested were - IT security, virtualization, wireless and mobility, storage, Cloud applications and services and networking.
About HIMSS
HIMSS is a cause-based, not-for-profit organization exclusively focused on providing global leadership for the optimal use of information technology (IT) and management systems for the betterment of healthcare. Founded 52 years ago, HIMSS and its related organizations are headquartered in Chicago with additional offices in the United States, Europe and Asia. HIMSS represents nearly 50,000 individual members, of which more than two thirds work in healthcare provider, governmental and not-for-profit organizations. HIMSS also includes over 570 corporate members and more than 225 not-for-profit partner organizations that share our mission of transforming healthcare through the effective use of information technology and management systems. HIMSS frames and leads healthcare practices and public policy through its content expertise, professional development, research initiatives, and media vehicles designed to promote information and management systems' contributions to improving the quality, safety, access, and cost-effectiveness of patient care. To learn more about HIMSS and to find out how to join us and our members in advancing our cause, please visit our website at www.himss.org
About 21st Century Informatics:
21st Century Informatics (21CI) is a global healthcare informatics company. Headquartered in Amsterdam, the Netherlands 21CI provides transformative solutions that improve the availability, accessibility and affordability of healthcare services.
21CI's Apex™ Enterprise Healthcare Information System is a platform that unleashes quantum improvements in revenue cycle management and clinical care.
21CI COMPONIUM powers Apex to make the platform suitable for multi-organization management, provides flexibility to the users of Apex to adapt the system to changing business needs without large customization costs and empowers the users through its learning tools.
For more information please visit: www.21ci.com

---